Apple's two new iPads – The iPad Air 2 and the iPad Mini 3 have finally hit the stores today. These products were live on Flipkart and Infibeam for pre-orders a week before. To purchase it from a retailer near to you, you can use the Apple Store Finder to find the shops. Apple will also continue to sell it online through it's e-commerce partner sites like Flipkart and Infibeam. Flipkart is offering next-day delivery on iPads for for a shipping fee of Rs.90 but if you order it from their mobile app, you can avail free shipping to selective cities. Inifibeam is offering next day free shipping across India.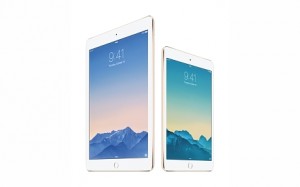 The higher end iPad Air 2 comes in two different variants: The Wi-Fi and the Wi-Fi + 3G model. The prices for the iPad Air 2 starts from Rs.35,900 which is a 16 GB Wi-fi model, the 16GB Wi-Fi + 3G model is for Rs.45,900. The 64 GB Wi-Fi model is for Rs.42,90, the 64 GB Wi-Fi + 3G is priced for Rs.52,900. And the 128 GB Wi-Fi model is for Rs.59,900 and the 128GB Wi-fi + 3G model is for Rs.59,900.
Similar to the iPad Air 2, the iPad Mini 3 also comes in the two variants i.e the Wi-Fi version and the Wi-Fi + Cellular. The 16 GB version is for Rs. 28,900, the 64 GB is priced for Rs. 35,900, and the 128 GB is for Rs. 42,900. The Wi-Fi + Cellular ones are for Rs.38,900 for the 16 GB, Rs. 45,900 for the 64 GB and Rs. 52,900 for the Rs.128 GB.
The iPad Air 2 which weighs less than a half a kilogram, features an improved Retina display along with enhanced contrast. Similar to iPhone 5S, it also has a Touch ID fingerprint sensor button and gold colour option. The iPad Air 2 is 18% thinner than its predecessor and measures just 6.1 mm making it the world's thinnest tablet. It also sports an upgraded camera of 8MP iSight primary camera and a 1.2MP facetime HD camera. The rear camera can shoot 1080p photos and slow motion videos. While the iPad Air 2 comes loaded with a lot of improvements over its predecessor, the new iPad mini 3 has not gone through that many upgrades. In fact it is almost same to the iPad mini 2 but only with the addition of the Touch ID fingerprint sensor and an option of gold colour.