It's Christmas! The holiday season, the season to reunite with distant relatives and long lost friends, the season with huge discounts on your favorite products, and the season to enjoy sweets till your heart's content. In short, Tis the season to be Jolly!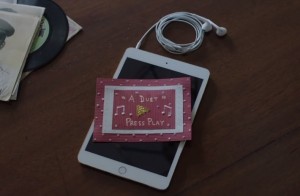 Like last year, Apple this year too has released its new commercial which is not showcasing any particular product but more of giving you the emotional feeling of Christmas. Apple posted this year's holiday card 'The – Song' over the weekend which features a girl creating a gift for her grandmother. The commercial starts slow with the young grand-daughter stumbling upon a vinyl record of her grandmother, which was special since it was dedicated to her grandfather. When played, the old record sounds grainy yet has all the feels. However, now the girl using her various Apple products throughout the day proceeds to re record the song with her own music, creating a gift which is connected to the memories of her granny's past. The video sweetly portrays the feelings associated with gifting your loved one a tailored gift. Have a look –
https://www.youtube.com/watch?v=WRsPnzcZ1VY
Although this commercial gave us all the necessary feels, it did not make us cry like the last year one. The commercial of last year was titled "Misunderstood" and had won the Emmy 2014 for Outstanding Commercial. The commercial starts by showing a teenage boy who like any other teenagers is buried in his iPhone and seems bored and at times reluctant to be a part of the celebrations. However, it turns out he was actually recording short clips and editing them to make a video of "A Harris Family Holiday" showcasing his family's Christmas celebration. In case if you haven't watched it yet, you can watch the heartwarming commercial here :
https://www.youtube.com/watch?v=nhwhnEe7CjE
We have one last thing to say, Although Apple does not needs advertising to sell its products, commercials like these make a emotional connect with the customers thus positioning the brand in a good light!