The Apple Watch is all set to hit US stores in March of 2015, according to sources. Apple has been maintaining an "early 2015" release date for the Apple Watch till now but did not mention any specific date. Recently, the President of Retail Angela Ahrendts spilled some beans by telling Apple employees that the launch will occur in"spring" after the Chinese New Year. Sources also state that Apple is applying finishing touches on the Apple Watch's software and getting the developers on board with the device. Apparently, the mass production of the Apple Watch is about to begin in January 2015 at Quanta.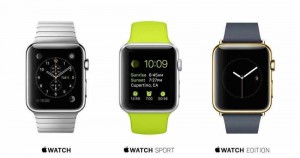 Usually, Apple delays the Indian launch of its new offerings by a month or so. This means that the Apple Watch may come to India by July. Extensive training has also been organized by Apple in the month of February for its retail employees to acquaint them with the new product category.

After showing off the device in the month of September, Apple has spent considerable time testing the battery and improving the software in the device. Apple engineers are also working round the clock to enhance the inductive charging mechanism deployed by the device.
All this needs to be taken with a pinch of salt though! Apple will not be ready to ship any device without developing a robust ecosystem around it. Also, unexpected last minute delays in software development and production could possibly postpone the release date even further.
The Apple Watch will come in three versions: Standard, Sports and Edition. Apple has so far revealed the pricing of the standard version only ($350). However, further reports state that the Sport model will be priced in the proximity of $500.
Recently iOS 8.2 beta revealed an application being designed for the Apple Watch and some new features of this companion app for the iPhone have also appeared. With all the positive hype already in the market and after this news, we just can't wait for the Apple Watch to hit Indian stores!