Apple made its WatchKit SDK available for the developers in November last year, along with Apple iOS 8.2 and Xcode 6.2 beta. And with Apple reporting that its Apple Watch developments are on track and will be available to users as speculated, there is a lot of news and rumors coming up concerning the Apple Watch.
Recently MacRumors reported that Apple is in talks with some high profile app developers and partners to have their Apple Watch compatible iPhone apps. Apple has allegedly asked them to be ready for launch on App Store by mid-February. MacRumors has also said to catch sights of thousands of Apple employees in Cupertino area wearing and testing the device ahead of its launch.
Keeping all talks apart, a third-party Tesla app, developed by Eleks Labs, gives lot of insights on pros and cons for the developers using the first generation Apple Watch. This prototype Tesla app allows users to control and monitor a Model S Tesla car over internet using a web-service API. According to Eleks Labs, the technical capabilities lack the firepower promised by Apple during the keynote. Eleks Labs suggested that there are numerous functionalities that are unavailable to the developers right now.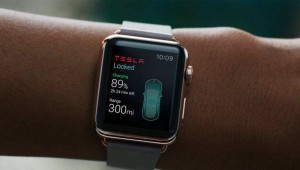 They claim that access to Apple Watch's gyroscope, accelerometer, built-in speaker and microphone or TapTic Engine of tactile notifications is not granted to the developers. Elek Labs further said that despite being a touch sensitive device, only Force Touch, which displays the shortcut menu, is available. GPS is available but only with an iPhone and Bluetooth availability for developers is absent too.
Along with the drawbacks, the Tesla App by Elek Labs also showcased some scope for the Apple Watch applications. This app provides the users with a lot of functionalities to control and monitor their Tesla car. Functionalities like car battery indications, temperature and mileage displays, location display, car condition, etc. are provided on the app. Also control options include opening and closing the doors, control over headlight operations. To gain more on the Tesla app, check this space.
Despite all the limitations pointed out by such third party app developers, one should consider that any gadget is bound to have some niggles and unnoticed glitches. Apple Pay is said to be the key function of the Apple Watch. Apple Pay will empower the users to authorize credit card payments using their wrist watche gadgets. It is also possible that Apple might use a third party app concerned with Apple Pay or be it for any other functionality, in the upcoming launch event.
After Apple reporting its highest earnings in the history, it has already created much hype in the market. And with the pending Apple Watch release, there is increase in the buzz talking about the functionalities Apple Watch beholds. Only a few months more to clear off all the fog around.