To the digital world, Facebook is always in news. Recently we reported about Facebook Inc. kick starting an ambitious yet philanthropic project of providing free internet in India. And now Facebook is bringing a new feature for Facebook Groups designed to make it easier for members of a "For Sale" group to list their items. The new "Sell" feature is now starting to roll out globally and will allow members to create a post where users can add a description of the item for sale, set a price, set a pickup or delivery location and other related features.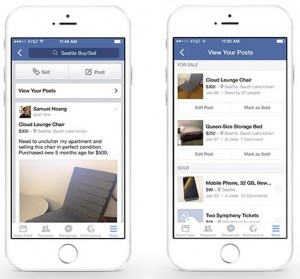 Facebook currently hosts millions of groups based on variety of interests and the 'For Sale' type are one of the most popular ones. These groups are popular as an alternative to Craigslist for local selling, or as an alternative to eBay for selling collectibles or other items. An example given by Facebook for the same is about guitarist Kadu Carvalho from Rio de Janerio. This user created a group to help musicians in Brazil buy and sell instruments. And as reported, in nearly three years, the group has grown to more than 34,000 members. This has now become a hub for trading and selling musical instruments.
Currently, members in such groups post photos and add relevant information. This format gets a little clustered with different users following different flow for posting the data. Also with all sorts of comments concerning requests for information flooding in causes the older posts to pop up over the recent ones. In a blog post, Facebook said, catering to all these problems, the 'Sell' option will follow a specific structured manner. This will help other users to get all the necessary information at one go.
In addition to this new feature, the sellers will be enabled with options to mark their posts as 'Available' or 'Sold'. This will make the process hassle free and convenient to both parties. Facebook also said that sellers will be able to see their catalog of previously sold items. Group admins can opt for trying the feature by nominating their group here. Facebook further added that it will continue adding more features to this crude feature in future. With an intent to make it more user friendly and easier to browse and search, Facebook will continue to roll out other enhancements to this domain.
Looking at Facebook trying out this new 'Sell' feature, rings an alarm bell for the likes of Craigslist and eBay. With lots of users already subscribed to Facebook and its very frequent use, this feature can be seen as a right step to spread the usage domain of Facebook.